LATEST RECORDINGS
RECORDING SERIES:
HAVANA – RIO - MOSCOW: Terje Mikkelsen conducts the Norwegian guitarist Stein-Erik Oslo and Academy of St Martin in the Fields in work by Heitor Villa-Lobos, Leo Brouwer and Nikita Koshkin. Stein-Erik Olsen has released many highly acclaimed albums throughout his career. For his first guitar concerto recording he teams up with The Academy of St Martin in the Fields, renowned for its outstanding sound - rooted in outstanding musicianship. These three works cover much of the expressive range of the 20th century Guitar Concerto in the hands of three masters of both writing for the guitar and contemporary composition. Each represents a different musical sensibility and cultural background. "- It's an attractive, beautifully crafted work (...) Olsen's customary thoughtful, lapidary playing is perfectly complemented by a very much on-form Academy of St. Martin in the Fields under the Norwegian conductor Terje Mikkelsen. [William Yeoman / Gramophone]".
For the latest reviews on Havana – Rio - Moscow go here: http://www.grappa.no/en/simax-classics/havana-rio-moscow/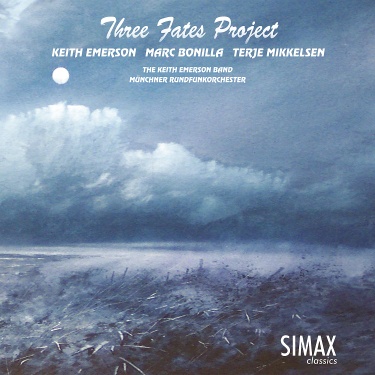 THE THREE FATES PROJECT: Terje Mikkelsen conducts the the work of Keith Emerson on a symphonic scale. Three Fates is a collaboration between Mr. Mikkelsen, Marc Bonilla and Keith Emerson. Keith Emerson is an icon of progressive rock behind the bands Emerson, Lake & Palmer and The Nice and Emerson. This partnership brings to fruition Keith Emerson's broad depth as a composer were Maestro Mikkelsen conducts the great works of 'Tarkus', 'Endless Enigma Suite' and 'Abaddon's Bolero' with a four piece band and full symphony orchestra. The Three Fates exemplifies Maestro Mikkelsen's range as a conductor, where he adeptly integrates Emerson's rock-and-roll stylizations with the classical orchestra.
For the latest review on The Three Fates go here: http://www.grappa.no/en/simax-classics/cd-dvd-three-fates-project-keith-emerson-band-in-symphony/
Finn Mortensen: Per Orchestra: Terje Mikkelsen undoubtedly has a certain sense for bringing great, unknown music to his listeners. He was the first to record Grieg' symphony, and has recently released premiere recordings by composers including Svendsen, Halvorsen, Alnæs and Tellefsen. As the second recording in a close co-operation together with the Münchner Rundfunkorchester, Mikkelsen is releasing the highly rewarding and rich orchestral works of Finn Mortensen.
For more information on Finn Mortensen: Per Orchestra go here: http://www.grappa.no/en/simax-classics/finn-mortensen-per-orchestra/
A dedicated advocate of the work of Norwegian Romantic composers; Maestro Mikkelsen has been encouraged by officials of the Royal Norwegian Government to expose Americans to this great Norwegian culture.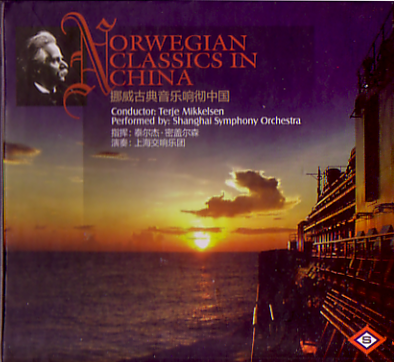 An early effort to promote Norwegian Romantics took place in Shanghai. As Mr. Mikkelsen's time as the principal conductor of the Shanghai Symphony Orchestra was coming to an end; the Royal Norwegian Consulate General in China with the support of I.M. Skaugen SE partnered to produce the 'Norwegian Classic in China" CD recording.



In 2009, Terje Mikkelsen embarked on the creation of a six CD 'box set' under the title of NORWEGIAN ROMANTICS. The first two recordings have been released with Mikkelsen conducting the Latvian National Symphony Orchestra. Subsequent recordings, four additional are planned, will feature various celebrated symphony orchestras.

Eyvind Alnaes' place in the history of Norwegian music has first and foremost been secured by his many beautiful songs and by his initiative to establish the Norwegian Performing Rights Society (TONO) – even if many people are unaware of the latter.

The two symphonies presented to a modern audience for the first time on this disc will probably compel us to re-evaluate our image of the composer. Hopefully they will also open our eyes and ears to the fact that the heritage of Norwegian music may contain (and does indeed contain, if we take the trouble to look) larger-scale works that deserve both recognition and, not least, documentation.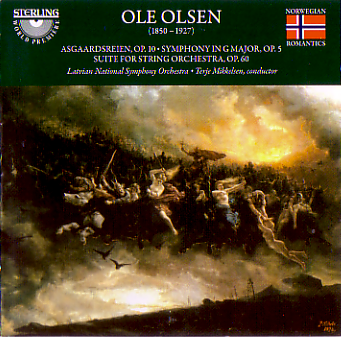 Ole Olsen was born in Hammarfest on July 4th, 1850 and has thus been nicknamed the world's most northerly composer. Both of his parents were musical, he evidently showed all the signs of being a prodigy. He studied at the Leipzig Conservatory in Germany. Olsen's catalogue of works includes music for a variety of occasions and instrumental combinations.

After 1886, however, he generally avoided sonata form. Even if his symphony was published as 'Symphony No.1,' he never wrote any other works in this genre – and not, for one reason or another, did he write any sonatas. Apart from the works already mentioned, he composed solo and choral songs, cantatas and a whole series of occasional pieces (marches, festive preludes and so on) that sometimes reveal a keen sense of humor (in this respect one might mention the Mandarin-Polka, Op. 42).
CATALOG